Driven by our stakeholders
In 2016, OFNTSC decided to take the organization to the next level when it comes to governance. We heard from our stakeholders that they want us to be a best-in-class organization—the kind that makes efficient use of its resources, provides innovative solutions to give clients what they need, is finding ways to grow its funding and service offerings, and – most importantly – listens closely to its stakeholders.
Since 2016, we have been engaging with stakeholders and subject matter experts in governance to design a governance model that incorporates industry best practices and reflects First Nations culture and values.
What has changed
Smaller, more agile board size
Data shows that smaller, skill-based boards are more effective and efficient. The board size has been reduced from 24 to 12, in line with governance best practices.
Modern, skills-based board
The most effective boards are apolitical, with a specific mix of key skills to successfully direct an organization. The new board is designed to have the specific cross-section of skills, experience and representation to understand the needs of our stakeholders and deliver on our mission. Read more about our board's requires skills and diversity mix here.
Technical Advisory Committee (TAC) established
This new committee is made up of technical experts who play a key role in the new governance structure. It provides a forum for sharing insights and advice on emerging technologies, technical challenges, technical services and opportunities. The TAC is critical to providing advice and insights on new OFNTSC initiatives and services.
Leadership Advisory Committee (LAC) to be established
Engaging with First Nations, funders and political organizations is key to the success of OFNTSC and its mission to serve our stakeholders. This committee will be made up of experienced leaders who can provide insights on how to best engage with these organizations, while also providing advice on important decisions and investments.
Common, modern Board Committees to be established
To improve oversight of the organization, we have implemented modern board committees to ensure good governance, strong financial management and ongoing accountability to First Nations in Ontario.
Read more about our current governance structure here.
A collaborative, transparent process
Collaboration
OFNTSC is committed to hearing and serving our voting members and clients. In pursuing an improved governance structure, we consulted stakeholders and experts throughout the process. Some of our outreach activities included:
Multiple newsletter updates sent to Tribal Councils, Unaffiliated First Nations and Large First Nations
Four Information Sessions held in November and December 2020
Multiple social media campaigns across Facebook, Twitter, Instagram and LinkedIn
10 direct email outreach communications to various stakeholder groups, including Voting Members, Tribal Councils, Unaffiliated First Nations and Large First Nations, the Chiefs of Ontario Political Office, the Political Territorial Organizations, Tribal Councils, current Board Members, Caretaker Board Members
Presentation to the Chiefs in Assembly, as well as an information booth for people to ask questions and pick up information sheets
Presentation to OFNIT
Governance updates to our website
Process
Our Voting Members appointed a Caretaker Board to lead the process. That Board engaged a professional board search firm and carried out extensive engagement with Voting Members as well as other stakeholders via social media. Initial screening of candidates was performed by the professional firm; however, the Voting Members ultimately made the final decisions about the new board members.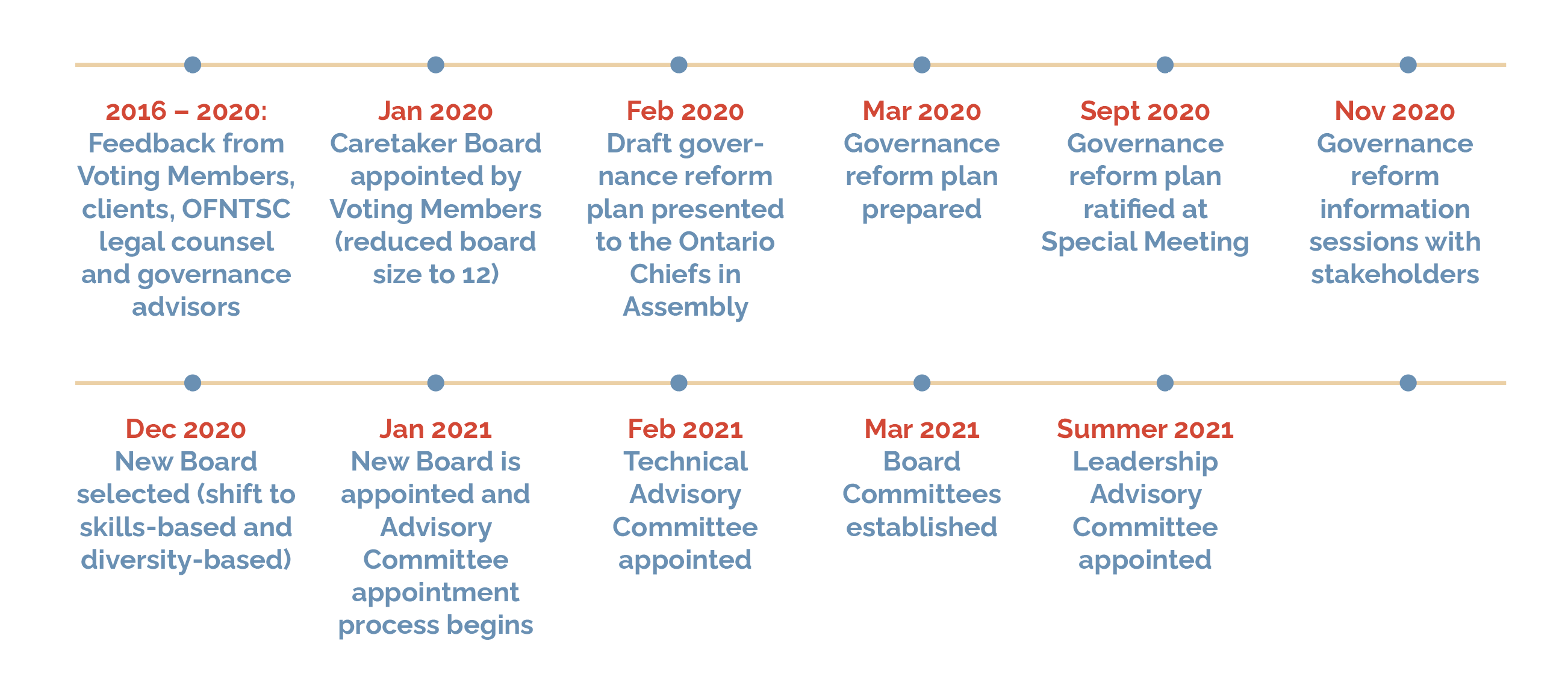 We remain accountable to our stakeholders
Through this time of change, our accountability to voting members and communities remains strong, and we look to further strengthen our connections:
The Board of Directors continues to be appointed by and accountable to the Voting Members. This also includes the new TAC and LAC committees, which will be appointed by Voting Members.
Voting Members will continue to be selected by First Nations and Tribal Councils in Ontario.
NEW: The new LAC and TAC committees are required to report to Voting Members at least four times per year, ensuring that the direct link to Voting Members and First Nations is much stronger than in the past.
NEW: We plan to enhance our formal annual accountability reporting to the Chiefs in Assembly.
NEW: To ensure OFNTSC communications to leadership are fulsome and timely, we are seeking to establish a communications protocol with Chiefs of Ontario.
NEW: We will provide open invitations to First Nations members to have a board member and/or management visit to report on the activities of the organization and answer questions.
How you will benefit
These improvements to our governance are designed to make us more efficient, innovative and in-tune with the needs of our stakeholders to provide the following benefits:
Improved opportunities for representation and feedback from stakeholders.
The needs of stakeholders are better understood and accommodated.
Better client support and new services made possible by improved use of existing resources and finding new sources of funding and partnership.
The apolitical board removes personal agendas, allowing business to move more quickly and objectively.
Clients have access to the latest, most innovative service offerings available.
Committed to hearing and serving stakeholders
We are guided by our stakeholders and welcome your continued input. For more information, to provide input, or request a community visit, please get in touch with our Executive Director.
Melanie Debassige MBA, ICD.D
Executive Director
Email:  mdebassige@ofntsc.org
Phone: (226) 493-0225